HARD DRIVE DESTRUCTION CHICAGO
Chicago Asset Recycling has been serving the entire Midwest with e-waste and top dollar asset recovery needs since 2008. Click below for E-waste pick up rates!
Registered – HIPAA/FACTA Compliant – R2 Downstream
​We have been in business since before the Landfill Ban and have our own Equipment, Shredders, Forklifts, IT staff, Data Wiping stations, Retail division. We have trucks collecting everyday and are able to even accommodate emergency pick up services. Our R2 Downstreams are regulated and provide you the peace of mind you need when working with a respected company. All DATA is either wiped, or dismantle for precious metals as a standard procedure. We also offer premium hard drive punching and destruction services. We Offer Chicago Electronics Recycling, Computer Recycling, Chicago Data Destruction, Chicago Hard Drive Shredding, Chicago TV Recycling & TV Disposal and Chicago IT Asset Recovery (IT Asset Disposition).
Secure Electronics Recycling
Highly trained professionals ready to provide the best service available. We service small businesses to fortune 500's on a monthly basis
State Of The Art Disposal
We continuously update our state of the art processes for e-waste disposal, data destruction & hazardous waste management.
25+ Drop Off Locations
Our drop off locations are through out the Chicago Land area accepting different items. The locations range from Chicago to the burbs.
On-Site HD Destruction
On-site Hard drive "punching" is a cost effective way to see your hard drives destroyed. Secure Data Destruction is a top priority for our company.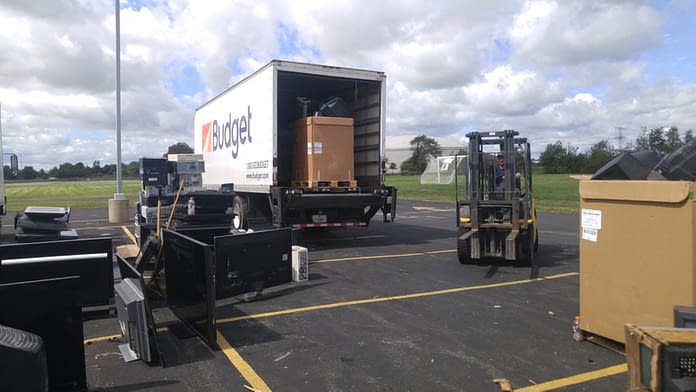 Electronics Recycling Events
Recycling Events from the Premier Chicago Electronic Recycling Collection Company in the Chicago land area. We service all of your IT recycling needs with care and effort. We are prepared for any size load no matter the difficulty level. Our teams come with all proper gear needed for an electronics recycling event. We strive to make sure all electronic recycling events are handled with care and provide a certificate of proper disposal.
For as many electronic devices as we all probably have, it can be difficult sometimes to get...
​Elесtrоniс Rесусling, Solution tо Cоnѕеrvаtiоn!"Thеrе'ѕ nо ѕuсh thing аѕ 'аwау.' Whеn wе throw аnуthing аwау, it muѕt...
How Businesses Can Look to Dispose of Computers and Electronics
Enterprise-Level Hard Drive Disposal in Naperville, Illinois through Electronic Recycling Naperville FOR IMMEDIATE RELEASEEnterprise-Level...
How Businesses Can Look to Dispose of Computers and Electronics
Electronic Recycling and Data Destruction for Cicero, Illinois Residents FOR IMMEDIATE RELEASE